* Satış işlemlerinde size verilen "Nick" , "Karakter Adı" harici güvenliğiniz için kimseye teslimat yapmayınız iletişime geçmeyiniz.! Bu tip hatalar yüzünden doğaca sorunlardan dolayı OYUNONE sorumlu tutulamaz.
* Alış ve satış işlemlerinde teslimat noktaları ve gerekli bilgilendirmeler yapılacaktır.
Products
About
Reviews
Gallery
How to use?
System Requirements
About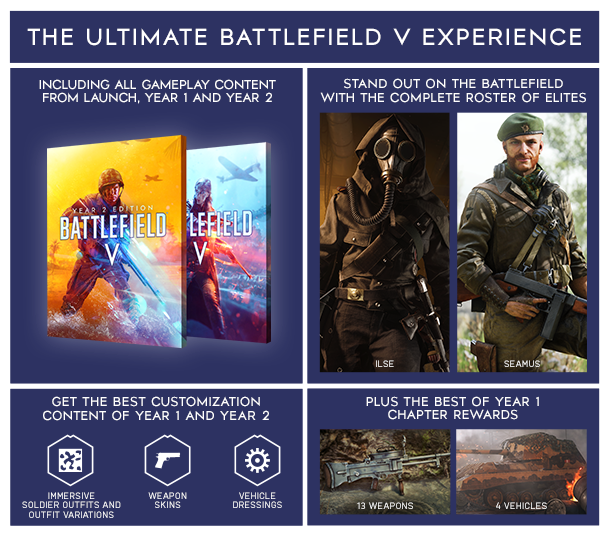 İşte karşınızda en üst düzey Battlefield™ V deneyimi. En başından itibaren açılan tüm oynanış içerikleriyle karada, havada ve denizde insanlık tarihinin en büyük çatışmasına girin. Silahlar, taşıtlar ve cihazlardan oluşan eksiksiz cephanelikten seçim yapın ve kendinizi 2. Dünya Savaşı'ndaki çetin savaşlara katılmış gibi hissedin. Tam kadro Elit Askerler ve 1. Yıl ve 2. Yılın en iyi özelleştirme içerikleriyle savaş alanında parlayın.
Battlefield™ V Definitive Sürüm, Battlefield™ V temel oyununu ve eksiksiz içerik koleksiyonunu içerir:
Lansmandan, 1. Yıldan ve 2. Yıldan tüm oyun içerikleri (silahlar, taşıtlar ve cihazlar)
Tüm Elit Askerler
2. Dünya Savaşı sandbox'ını geliştiren, İngiliz ve Alman orduları için 84 sürükleyici teçhizat çeşidi.
2. Yıldan 8 asker teçhizatı
2. Yıldan sırayla 10 ve 4 silaha uygulanabilen 2 silah kaplaması
3 taşıt süslemesi
1. Yıldan 33 Bölüm Ödülü ögesi
Add the first comment
Share your opinion about this product with other users.
TOTAL RECORDS : {{ totalItems }} - TOTAL PAGES : {{ totalPages }}
System Requirements
Minimum:
64-bit işlemci ve işletim sistemi gerektirir
İşletim Sistemi: 64-bit Windows 7, Windows 8.1 and Windows 10
İşlemci: AMD FX-8350/ Core i5 6600K
Bellek: 8 GB RAM
Ekran Kartı: NVIDIA GeForce® GTX 1050 / NVIDIA GeForce® GTX 660 2GB or AMD Radeon™ RX 560 / HD 7850 2GB
DirectX: Sürüm 11
Depolama: 50 GB kullanılabilir alan
Önerilen:
64-bit işlemci ve işletim sistemi gerektirir
İşletim Sistemi: 64-bit Windows 10 or later
İşlemci: AMD Ryzen 3 1300X/Intel Core i7 4790
Bellek: 12 GB RAM
Ekran Kartı: NVIDIA GeForce® GTX 1060 6GB/AMD Radeon™ RX 580 8GB
DirectX: Sürüm 11
Depolama: 50 GB kullanılabilir alan