* Satış işlemlerinde size verilen "Nick" , "Karakter Adı" harici güvenliğiniz için kimseye teslimat yapmayınız iletişime geçmeyiniz.! Bu tip hatalar yüzünden doğaca sorunlardan dolayı OYUNONE sorumlu tutulamaz.
* Alış ve satış işlemlerinde teslimat noktaları ve gerekli bilgilendirmeler yapılacaktır.
About
Buzz
"An interesting and vivacious playground for those who want some nation-building with their city simulators" - Gamespot
"It's a tropical vacation worth taking when you're looking for an in-depth city-builder with strong personality and a touch of humor." - IGN
"Its entertaining and addictive." - Gamecrate
"Tropico 6 will definitely cause you to stay up later than you should." - Game Revolution
"Tropico 6 is the best entry in the series!" - WccfTech
ADD TO YOUR WISHLIST

El Prez Edition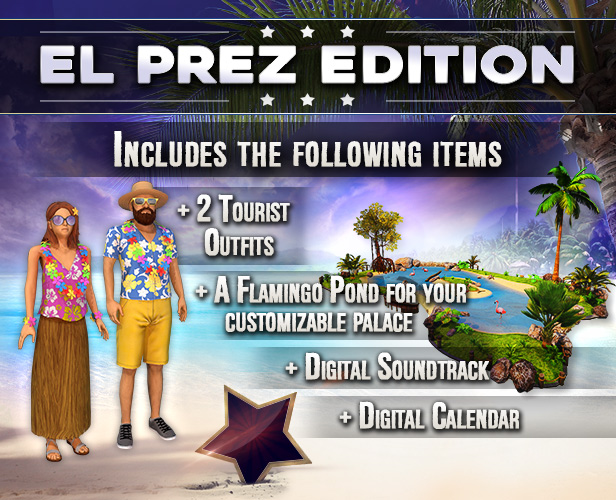 The exclusive palace design contains the captivating flamingo pond, something every dictator craves to impress his neighbouring states and a tourist costume for El Prez to enjoy those warm caribbean nights adequately. You can also treat your ears to the original soundtrack, featuring the game's unique and catchy musical score as well as a digital calendar for your dictatorial plans throughout the year.
Oyun Açıklaması
El Presidente is back!

Play on
large archipelagos
for the first time in the series. Manage
multiple islands
at the same time and adapt to various new challenges.
Send your agents on raids to foreign lands to
steal world wonders and monuments
, to add them to your collection.
Build bridges, construct tunnels
and transport your citizens and tourists in
taxis, buses and aerial cable cars
. Tropico 6 offers completely new transportation and infrastructure possibilities.
Customize
the looks of your palace at will and choose from various extras.
Tropico 6 features a revised
research system
focusing on the political aspects of being the world's greatest dictator.
Election speeches
are back! Address the people and make promises that you can't possibly keep.
Online
multiplayer
for up to 4 players.

In times of political turmoil and social unrest, the people are calling for visionary leaders, who will steer the fate of their country with foresight and ingenuity. Prove yourself once again as a feared dictator or peace-loving statesman on the island state of
Tropico
and shape the fate of your very own banana republic through
four
distinctive eras
. Face new challenges on the international stage and always keep the needs of your people in mind.
For the first time in the series, manage extensive
archipelagos
,
build bridges
to connect your islands and use new means of
transportation and infrastructure
. Send your Tropicans on raids to
steal the wonders of the world
, including the Statue of Liberty and the Eiffel Tower.
Customize your palace
at will and give
election speeches
from your balcony, to win the favor of your subjects.
Add the first comment
Share your opinion about this product with other users.
TOTAL RECORDS : {{ totalItems }} - TOTAL PAGES : {{ totalPages }}
System Requirements
Minimum:
64-bit işlemci ve işletim sistemi gerektirir
İşletim Sistemi: Windows 7 64-bit
İşlemci: AMD or Intel, 3 GHz (AMD A10 7850K, Intel i3-2000)
Bellek: 8 GB RAM
Ekran Kartı: AMD/NVIDIA dedicated GPU, 2GB dedicated VRAM (Radeon HD 7870, Geforce GTX 750)
DirectX: Sürüm 11
Depolama: 16 GB kullanılabilir alan
Önerilen:
64-bit işlemci ve işletim sistemi gerektirir
İşletim Sistemi: Windows 10 64-bit
İşlemci: AMD or Intel, 3.3 GHz (AMD FX 8300, Intel i5 3000)
Bellek: 16 GB RAM
Ekran Kartı: AMD/NVIDIA dedicated GPU, 4GB dedicated VRAM (Radeon R9 380, Geforce GTX 960)
Depolama: 16 GB kullanılabilir alan